Learn to Smoke Meat Like Big Mikes BBQ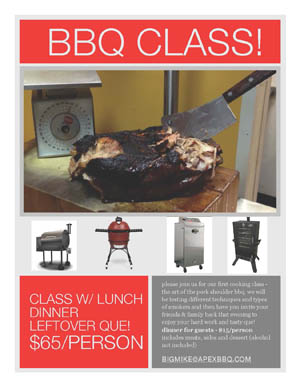 Do you want to learn to smoke meat like we do at Big Mike's BBQ? We are having our first smoking class Saturday October 17th at 11:00 AM at 1222 NW Maynard Road in Cary NC. Learn how to smoke a pork shoulder using different smokers, techniques (brine/inject/dry rubs) and sauces for just $65 per person. We'll also taste the difference between commercial versus pasture raised meat. The cost includes the class, lunch, and your meal when you come back for dinner at 7:00pm to enjoy the food prepared at the class.
We'll have a cooking demonstration and class at 11:00. After the meat has cooked for the afternoon, dinner will be served buffet style in an outdoor picnic format outside Brew N Que. Bring your friends back for dinner (an additional $15 for each guest). Any meat not eaten for dinner will divided and sent home with the participants.
Sign up online at our Square Store
or email
bigmike@apexbbq.com
.