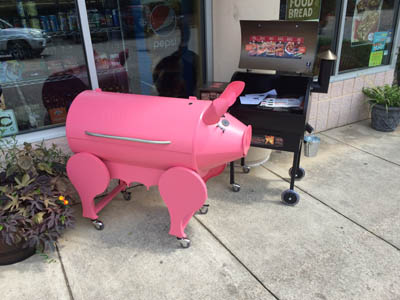 We are now selling Traeger Smokers and supplies at the Brew N Que restaurant in Cary NC. Stop in and shop today! Information is also coming soon about our smoking classes.
Don't forget, we're always adding to and changing the beer selection. Here are some of the new ones on tap recently:
Blue Mountain's 13.Five Oktoberfest
Hi-Wire Brewing's Bed of Nails Brown, Primetime Pale Ale, and Lion Tamer Red Rye
Deep River Brewing Company's Double D Watermelon Lager
Raleigh Brewing Company's Hidden Pipe Porter
Fullsteam Brewery's Summer Basil
Bombshell Brewery's Dirty Secret Coconut Stout
Sierra Nevada's Witbier with Grapefruit
And here are some of the new ones in bottles:
White Rabbit Brewing Company's Jabberwocky Beglian Tripel and Chesire's Pumpkin Ale
Deep River Brewing Comapny's Mango Tango Foxtrot IPA
Southern Tier's Mokah
* * *
Y'all come and see us for authentic barbeque and craft beer on tap at Big Mike's Brew N Que on Maynard Road in Cary NC. We also have a big selection of bottled craft beer and offer catering services. Easy to get to from Apex, Morrisville, Raleigh, Durham, and Holly Springs. Find out why Brew N Que is the Triangle's best BBQ restaurant!