This week, we started opening our restaurants on Mondays. We are now open Monday through Saturdays from 11 AM to 10 PM. Visit our restaurant each day of the week for a different event:
Mondays – Ribs Night!
Tuesdays – Tap Hunter Tastings and Wing Night + Drop in anytime after 4pm and we will be sampling our new beers on the shelf for the week
Wednesdays – Burnt Ends
Thursdays – Blood, Sweat, and Beers Run Club
Saturdays – Burnt Ends (After 2 PM)
Local Running Group Meets Thursday Evenings
Blood, Sweat, and Beers is a local running group that meets on Thursday evenings. They start at Black Bolt CrossFit and end at Brew N Que. If you love running and want to participate, join the
Facebook group
for more information.
Traeger BBQ Smokers and Cooking Lessons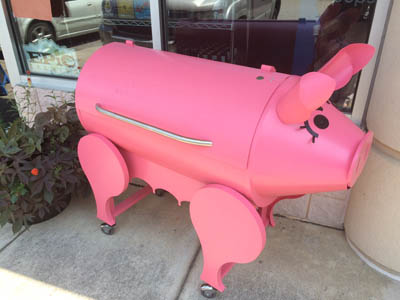 A few weeks ago, we shared that we will be selling smokers and teaching lessons from our Brew N Que restaurant. This week, we are one step closer to that goal!
If you are interested in purchasing a Traeger smoker, send us an email or stop in for more information! When you purchase a smoker with Big Mike's BBQ, make us your regular supplier for wood pellets, charcoal and other BBQ supplies!
On tap this weekend at Brew N Que
Founder's Imperial Stout
Hi-Wire's Primetime Pale Ale, Ophelia Hoppy Wheat, and Brown Ale
Ballast Point's Fathom
Carolina Brewing Company's Hop Roar West Coast IPA
Deep River's Double D's Watermelon Lager
Fullsteam's Low 'N Slow Gratzer
Triangle Brewing Company's Habanero Pale Ale
New Craft Beer in Bottles Brew N Que
Fullsteam Brewery's Fearrington Summer India Tea Ale
Triple C Brewing Company's Smoked Amber, 3C IPA, Golden Boy Blonde Ale, and Baby Maker
Blue Mountain Brewery's Hopwork Orange
DuClaw Brewing Co.'s Orgazm Grapefruit Blonde Ale
Carolina Brewing Company's Imperial IPA
* * *
Y'all come and see us for authentic barbeque and craft beer on tap at Big Mike's Brew N Que on Maynard Road in Cary NC. We also have a big selection of bottled craft beer and offer catering services. Easy to get to from Apex, Morrisville, Raleigh, Durham, and Holly Springs. Find out why Brew N Que is the Triangle's best BBQ restaurant!